Beautify Your Space with Hardwood Floor Refinishing in Buford, GA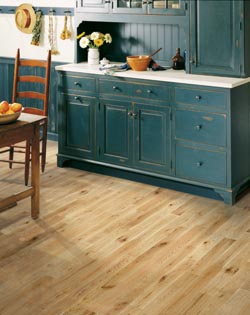 When you have a wood floor and its' best days have come and gone, at first you may feel that it's time to start looking for new flooring materials. It's important to note with wood flooring, however, that there's a more cost-effective way to restore the look and feel of hardwood than investing an all-new flooring project. Make your floors look like new again when you turn to our flooring specialists at A & R Flooring.
At our local showroom, we proudly perform hardwood floor refinishing in Buford, GA. Our flooring specialists understand that solid hardwood flooring requires routine upkeep to ensure it continues to look like new. That's why we deliver targeted hardwood refinishing services to turn back the clock on your floors and revitalize one of the most foundational features of your indoor atmosphere.
How Hardwood Refinishing Works
The first part of any hardwood refinishing project is carefully removing adhesives and dirt from the area. We also recommend doing so if your goal is to change the color of the wood or to remove any signs of wear and tear. With newly sanded revitalized hardwood, you'll have a fresh, smooth surface for the stain and finish.
Our hardwood flooring contractors strictly use heavy-duty tools to sand the floors down to bare wood. Once the sanding is complete, we check the treated areas to identify any damaged strips or planks. Finally, we follow up with a complete restoration for any affected sections.
Rejuvenate Your Space with Restored Hardwood Floors
Is there a substantive amount of carpeting in your home? When you're ready to make a considerable change to your interior atmosphere, you may be surprised to find the beautiful floors that rest underneath your carpeting. This especially rings true when homeowners discover the original hardwood floors that rested under carpeting by previous residents.
Traditional hardwood flooring is an ideal choice for several areas of the home. Though it's in your best interest to invest in our hardwood refinishing service in your flooring hasn't seen the light of day in years. In addition to becoming dull or scuffed during their time in hiding, individual flooring planks may have weakened substantially.
Trust our technicians to restore your floors and help you get the most from your existing materials. No matter what sort of solid hardwood floors you have, you can rest assured that we have the tools and training needed to return the beautiful surfaces you're looking for.
Contact our specialists to the beautiful solid hardwood floors you desire. We proudly serve customers in Buford, Sugar Hill, Flower Branch, and Cumming, Georgia.

Contact us to learn more about our unique way of refinishing your hardwood floors. Our dustless hardwood refinishing services are available to customers located throughout the Buford, Sugar Hill, Flowery Branch, and Cumming, Georgia, area.