State-of-the-Art Engineered Hardwood in Buford, GA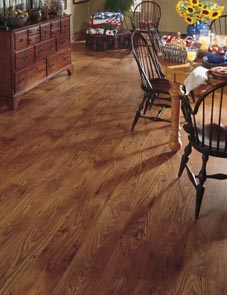 For hundreds of years it was thought that you simply couldn't improve upon solid hardwood flooring. That has all changed thanks to the geniuses that have brought us engineered hardwood in Buford, GA. This flooring option brings everything you love about solid hardwood flooring to the table and then enhances it to ensure you have a floor that looks great and functions even better.
A & R Flooring is excited to tell you all about the benefits of our engineered wood flooring. Once we get started, it will be easy to see why! Unlike regular wood floors, engineered hardwood is resistant to humidity and temperature changes. This is a huge boost to the durability of your floors and means less upkeep and maintenance costs.


The Stronger Alternative to Solid Hardwood
The very first thing you will notice when you begin to shop for engineered wood flooring is that it looks and feels just like genuine hardwood. It is true! Available in a vast array of colors, textures, wood species, and finishes, your engineered hardwood floor enables you to shop for your new floor just like you were shopping for a regular hardwood surface.
Where the difference comes in is in how your engineered wood floor functions. This is a surface that is much stronger and more durable than standard hardwood. Through technology, this specialized wood floor is built to handle challenges that regular hardwood just can't handle, especially when it comes to moisture.


Complete Engineered Hardwood Installation
Have you decided to bring this revolutionary flooring surface to your home? Then make sure you are able to enjoy all of the benefits that come with it by having our engineered hardwood installation team put it into your home for you. There are a number of different installation techniques, including gluing, stapling, and floating, that we can use, depending on your home and requests.
Choosing to let an amateur try and install your flooring is a quick way to end up losing a lot of money in the future. Even simple mistakes can grow into major problems throughout the years that can significantly reduce the lifespan of your new floor, require more repairs, or just simply not give you the benefits or look you had fallen in love with to begin with. Have us ensure you don't run into any of these problems by using our professional engineered hardwood installation services.



Contact us to learn more about how engineered hardwood differs from solid hardwood. We offer engineered hardwood installations to customers located throughout the Buford, Sugar Hill, Flowery Branch, and Cumming, Georgia, area.