Luxury Vinyl Flooring Store in Buford, GA
Get ready to elevate your home or business floors with stunning luxury vinyl flooring from A&R Flooring in Buford, GA! We are Buford's go-to luxury vinyl flooring store. Our luxury vinyl options offer the elegance and resilience of hardwood or tile without breaking the bank. We can revitalize any outdated floor plan with many choices, including luxury vinyl tile and luxury vinyl plank.
For kitchens, bathrooms, mudrooms, playrooms, and more, luxury vinyl flooring is the perfect waterproof choice. Don't compromise on style or durability. Visit our showroom in Buford, GA, and meet with our flooring experts to explore your options. Our vinyl flooring is strong, comfortable underfoot, and resistant to water, stains, and scratches. We've crafted luxury vinyl flooring using advanced imaging technologies that replicated hardwood, tile, and natural stone charm. Don't miss the opportunity to transform your floors into something extraordinary. Come on down, and let's make your flooring dreams a reality!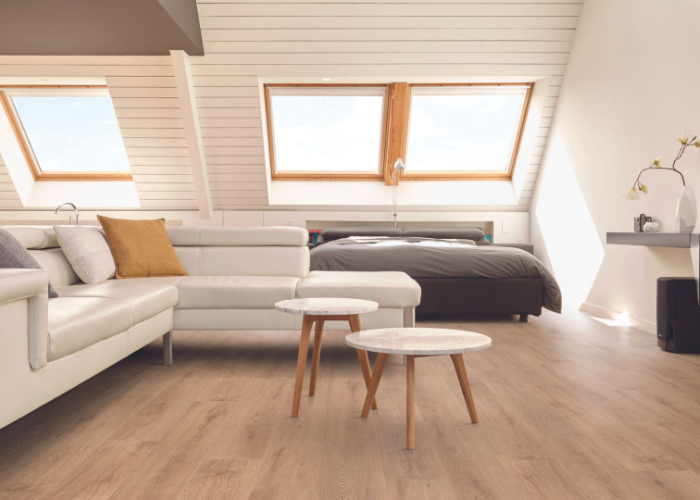 Type of Luxury Vinyl Floors
At A&R Flooring, we've got you covered with not one, but two fantastic types of luxury vinyl flooring: luxury vinyl plank (LVP) and luxury vinyl tile (LVT). No need to worry about durability or style, as both options offer a top-notch flooring solution for any room in your home. Now, let's learn more about both options:
If you're aiming for that classic, elegant hardwood look without the headache of maintenance and the hefty price tag, LVP is the way to go. You'll be amazed at how it flawlessly mimics natural wood grain patterns and textures, bringing warmth and charm to your space. But the best part? It has some amazing perks, like water resistance, so spills and splashes won't stand a chance. Plus, it's super tough, ensuring it stays beautiful for years.

If you prefer the look of natural stone or tile, our LVT has got you covered. Its stunning resemblance to stone and tile flooring makes it perfect for bathrooms, kitchens, and other areas with high moisture. It looks and feels authentic and is durable, making it a practical and budget-friendly choice for any luxury flooring project.
Waterproof Luxury Vinyl Flooring
Our waterproof luxury vinyl flooring options are perfect for homeowners who want that added layer of protection in high-moisture areas like bathrooms, basements, and kitchens. No need to worry about water wreaking havoc on your floors - our luxury vinyl can handle it like a champ, without warping, bucking, or losing its charm.
We've got you covered with LVP and LVT, featuring a waterproof core that adds extra defense against any potential damage. Our team of experienced flooring experts is here to guide you through the process and help you find the perfect waterproof luxury vinyl flooring option that matches your needs and style. Embrace the beauty and protection of luxury vinyl in every room of your home!
The Unmatched Benefits of Luxury Vinyl
When it comes to decking out your home with flooring that's both luxurious and practical, you can't beat luxury vinyl flooring. Here at A&R Flooring, we know the charm and benefits of luxury vinyl like the back of our hands, and we're excited to share them with you:
Luxury vinyl floors bring the elegance of natural materials like hardwood and tile right into your home without breaking the bank. Whether you prefer the timeless look of wood or the sophistication of tile, a luxury vinyl option will have you swooning.

Life can get busy, but don't worry - luxury vinyl flooring can handle it all! Its tough and resilient surface can withstand heavy foot traffic, kids' playtime, and even the occasional pet paw prints, all while maintaining its beauty for years.

Who wants to spend hours scrubbing and polishing floors? With luxury vinyl, maintenance is a breeze. A quick sweep and occasional mopping are all you need to keep it looking pristine - more time for you to relax in your beautiful home!

Achieving a luxurious look doesn't have to be expensive. Luxury vinyl flooring offers an affordable alternative to expensive flooring materials, giving you the best of both worlds - style and savings!

Not only is luxury vinyl flooring a treat for the eyes, but it's also a treat for your feet. Its softer surface provides a comfortable walking experience and even helps reduce noise levels, making your home a peaceful sanctuary.

Our experienced team at A&R Flooring will have your luxury vinyl floors installed in a jiffy! The installation process is efficient and hassle-free so you can enjoy your new floors quickly.
Professional Luxury Vinyl Flooring Installation
Rely on our expert team of professional installers to make the most of your home remodel. You can expect high-quality workmanship and an accurate material supply when you partner with us. We'll measure your renovation space to ensure you have the right flooring for your project. Our commitment to customer satisfaction is supported by our Ultimate Confidence Guarantee, which ensures that any installation errors will be repaired at no cost to you.
From your first visit to our showroom through the final installation, you can count on us to provide great customer service. Choosing new flooring should be a pleasurable experience, and we go to great lengths to make it so. Never settle for less than the best when you purchase at A&R Flooring.


Contact us to get started with an initial consultation today. We proudly serve Buford, Sugar Hill, Flowery Branch, and Cumming, GA.