Tile Flooring in Buford, GA
A new tile floor can enhance the appearance of any space in your home, giving a touch of elegant Southern charm. With a variety of textures, colors, and sustainable materials available in our showroom, we're certain you will find a product that suits your home. If you've been considering tile for your next flooring project, rely on A & R Flooring to provide you with meaningful information and advice for a custom tile flooring look. Visit our showroom in Buford, Georgia, to make your dream tile flooring a reality!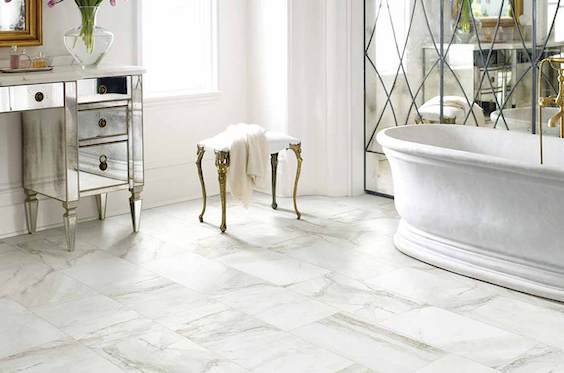 Expansive Tile Selections at Our Local Flooring Store
Plan out your upgraded flooring with a choice from our many brands of elegant and attractive tile. We offer ceramic, porcelain, slate, and stone materials, which make for a diverse and natural appearance inside and outside of the home. Perhaps you're seeking a firm and earthy stone patio to compliment an outdoor green space, or a renovated kitchen or bathroom.
While some customers prefer a shimmering ceramic, others may choose wood-look tile to replicate the rich ambiance of mahogany, birch, or oak floors. Rectified tile is a nice choice for those seeking a unified look for all tiles. Regardless of your design preferences, our in-store associates are happy to walk you through our vast selection and explain how each tile option may be customized in size, pattern, color, and cut.
Available Tile Flooring Types
Our variety of tile flooring contains different materials and can benefit different projects for installation. Browse our elite brands of tile flooring, including Spotlight Values, Floorcraft, Mohawk, and more. We're confident you'll discover the perfect flooring type for your home remodel. It is important to understand the different types of tile flooring:
Ceramic
Ceramic tile is made from clay and other natural materials and is produced through a kiln heating and cooling process. Ceramics may be left unglazed or given a glaze finish once they have cooled. While most ceramic tile floors are left textured to prevent slipping, wall ceramics are often glazed to give them a more polished appearance.
Porcelain
This tile is developed in the same way as ceramic tiles, but with a longer heating period for the kiln-fired clay. As a result, the finish is denser and has the same vibrancy as its ceramic equivalent.
Slate & Stone
Stone tile is one of the best options for outdoor flooring as it can withstand the elements. Slate has an earthy, rich appearance, while travertine, which is made of limestone, has a paler appearance. Both types can be used for interior flooring as well.
Wood-Look Tile
Some love the character of wood but are drawn to the benefits of tile. At A&R Flooring America, you can have both with our wood-look tile. We offer both porcelain and ceramic tile that has the realistic appeal of hardwood plank. Our sales and design professionals can show you a multitude of samples with varying wood grain and patterns, as well as the look of different botanical species. Whether you're sporting the look of a rustic cottage or a mid-century modern home, wood-look tile is a beautiful and contemporary approach to home design.
Our bountiful selection includes tile with different wood looks ranging from lighter shades of oak to rich hues of mahogany. Ask our sales and design professionals to assist you in picking out the perfect wood-look tile for any room of your home.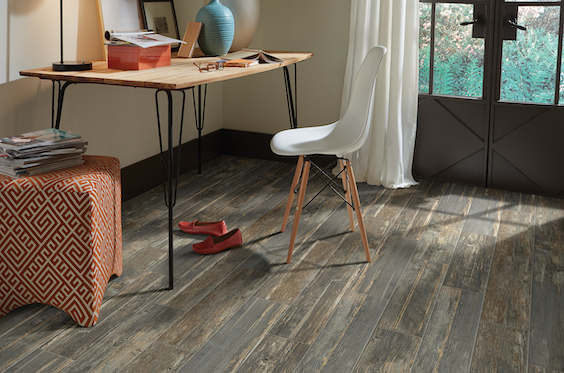 Benefits of Tile Flooring for Your Buford Home
Tile has been a common material for floors and walls since ancient times for its gorgeous architectural features and reliability. Here at A&R Flooring America of Buford, we have access to nationwide 500-store buying power which means great selection at a low cost, from high-quality flooring manufacturers. Investing in tile as your flooring type comes with many advantages, including the following:
Whether you chose tile for its' unique, glossy features or to replicate the appearance of solid wood, you'll enjoy tile's versatility in design.
Properly sealed tile withstands moisture, spills, and stains, making it an excellent choice for active households.
Tile flooring care is simple, just a bit of soap and warm water will clean up any discoloration from dirt and debris.
Incredibly resistant to foot traffic and natural elements like heat and water.
Tile is a cool-to-touch and waterproof eco-friendly flooring material.
Known to be incredibly long-lasting, ceramic and porcelain tile floors are among the strongest and most durable on the market.
Rely on Our Professional Tile Installation Services
After you purchase a new tile floor, it's time to think about the installation process. We offer professional tile installation services from local Buford contractors that ensure a job well done. Whether you're enjoying a laid-back retired life or managing a busy household, we work around your schedule to minimize household disruptions.
We meticulously place your chosen floor tile to create a multi-dimensional masterpiece that lasts. Our promise of quality is backed by our Adore Your Floor Guarantee, providing a free re-install should you be dissatisfied within 30 days of installation. Count on A & R Flooring to deliver excellent guidance in selection and installation services every time.
Contact us today to launch your next home redesign project with stunning new tile floors! We proudly serve Buford, Sugar Hill, Flowery Branch, Cumming, Georgia, and the surrounding areas.