Carpet Flooring in Buford, GA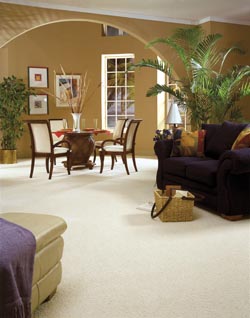 There are many different types of flooring available for your home. One of the most popular options is carpet flooring in Buford, GA from A & R Flooring. As one of the leading carpet stores in Buford, GA, we are dedicated to providing you with only the finest in carpeting options from such trusted brands as Shaw, Mohawk, Dream Weaver, and StainMaster.
Interested in adding new carpets to your home? Then reach out to one of our helpful staff members today. We look forward to discussing the different options available to you-- many carpets starting at just $12 per square yard.
Choosing Carpet for Your Home
So what makes carpet such a popular choice for homeowners like yourself? There are many different reasons! The first, and most obvious, is that the coloring, patterns, and pile heights of a new carpet can truly add new dimensions to your décor. This allows you to stretch your interior design muscle as you narrow down that perfect pattern, cut, and color from a huge assortment of options.
Your new carpet doesn't just enhance the look of your room; your new carpet also improves the way your room functions. Carpeting is great when it comes to better insulating your home while also improving the acoustics and safety of your space. Not only that, but you can choose many different carpet styles that feel soft and welcoming under your feet.
Looking Good for the Long Haul
Another unique aspect of carpet flooring is just how easy it is to maintain when it is properly installed by our team of skilled professionals. While hard surfaces typically require a weekly, if not daily, cleaning routine to ensure they continue to look good, carpet traps dust, allergens, and other contaminants safely until they can be properly removed. This is a big boost to the cleanliness of your home.
Once you are ready to clean up those contaminants, you will find it won't take much to bring your properly installed carpet back to its best possible condition. Each different type of carpet, from shag to Berber, brings their unique benefits to the table. Reach out to us to discuss what you are looking for from a new floor so we can assist you in narrowing down your search to the perfect options for you and your home. The next time you search for "carpet near me," look no further than A&R flooring in Buford, GA.

Contact us when you are looking for the best of the best in carpets. Our carpet store provides sales and installation services to customers located throughout the Buford, Sugar Hill, Flowery Branch, and Cumming, Georgia, area.